Why Are We Suddenly Hearing So Much About KF94 Masks?
By Kylie Simon   March 16, 2021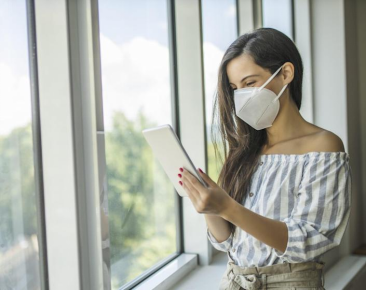 It's a year later and we're all wearing face masks, something most of us never imagined last February. Health experts even recommend wearing two masks at once now. As more COVID-19 variants appear, wearing a high-quality face mask is more important than ever.
We already know that all face masks aren't equal, and there's a difference between medical-grade respirators and cloth face coverings. Now as the pandemic drags on, professional-grade masks are gaining attention again, especially because they can filter out particles better than a cloth mask.
KF94 masks are now growing in popularity. To understand how it works, what you first need to do is to investigate those mysterious initials. The "KF" stands for "Korean filter" and the 94 refers to the masks' filtration efficacy.
According to the South Korean government's standards, these masks filter 94% of particles down to 0.3 microns in size. They feature ear loops, an adjustable nose bridge and side flaps to create a tight fit.
Percentage of aerosol particulates filtered: 94%
NIOSH-approved: No
Who should wear one: Anyone can wear these masks in low - to moderate-risk environments, such as going to the grocery store or an outdoor gathering.
In a very small August 2020 study (only seven people), researchers found KF94 masks to be just as effective at filtering SARS-CoV-2 as N95 masks. Still, like KN95s, KF94s are a steep upgrade from the single-ply cotton face cover you're probably walking around with.
Avoid counterfeit masks.
Fraudulent face masks have become a problem on Amazon and other large online retailers. Manufacturers claim to be selling KF94s, when in reality the masks they sell are not held to the same standards as masks that have undergone inspection by governments.
It's near-impossible to spot counterfeit masks, especially when shopping online, but you can choose to buy from reputable retailers, such as MARIFUL, which have vetting processes for products.
From reusable cloth masks, to KF94 Masks, MARIFUL provides multiple sizes masks in premium quality in plentiful quantities.
Utilizing a multi-layer filtration system, MARIFUL KF94 Mask filters out pollutants and molecules including: dust, allergens, pollen, chemicals, and smoke. These masks are safe for everyday use by everyone in your family.
MARIFUL KF94 Mask provides a minimum 94% filter efficiency against 0.3-micron airborne particles. In comparison, other reusable masks are less effective when it comes to filtering harmful particles in the air.
It's designed to help bring you protection and comfort. It captures great majority of airborne particles while allowing you to breathe easier. It's the best combination of filtering, fitting and quality. 
While the CDC continues to study the spread and effects of the novel coronavirus across the United States, there are some things we know for sure. That is, wear a mask and make sure that you and your family are safe.